Lead management focuses on moving a lead through your sales pipeline. A business may do this by lead nurturing, lead qualification, and lead scoring. Managing your sales pipeline and focusing on the right prospects means having the right message at the right stage of your pipeline. You don't want to talk about being a valued customer if the lead hasn't purchased anything from you previously. The goal of effective sales pipeline management is to increase your ability to generate predictable and consistent revenue.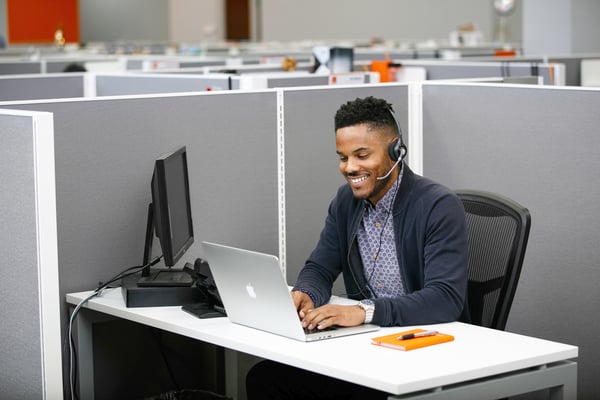 Concept has mastered lead management services for various industries. By using a combination of marketing automation technology, channels, and our team of sales development representatives (SDRs), we can ensure that your organization's B2B sales lead qualification process is being managed consistently and effectively.
Concept works throughout the lead management process to not only gather additional insight and intel, but continue to position your company's value proposition to ensure each lead understands how you can eliminate their pain and move them toward their business goals. Our goal is to take each of your leads and progress them to a marketing-qualified lead (MQL) stage and ultimately to a sales-qualified lead (SQL). At that time, we coordinate the next step to get that SQL in contact with a member of your sales team.
Lead Management
Growing your customer base starts with effective lead management of a company's sales pipeline. A sales pipeline details the steps on the buyer's journey from prospect to customer. Effective lead management within the sales pipeline ensures the necessary actions that should be taken at each stage by either an internal or external sales team.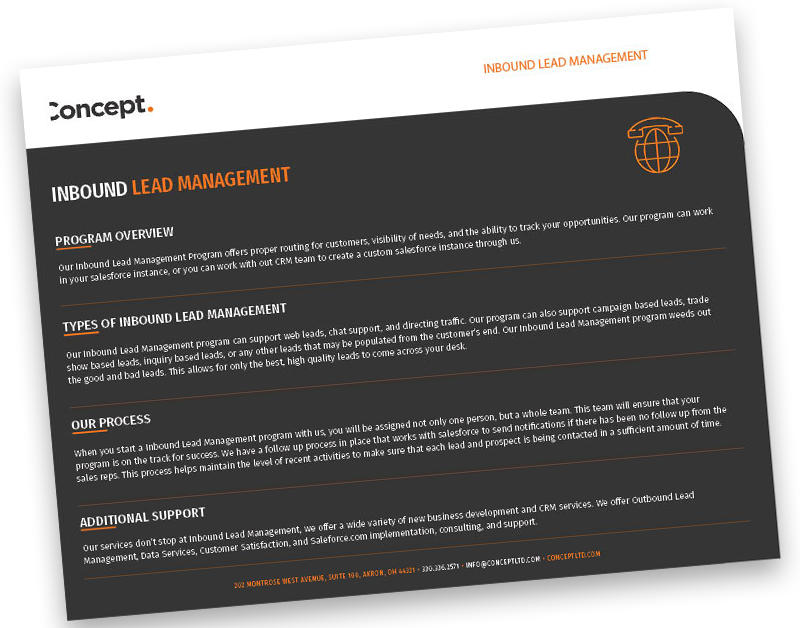 Lead Nurturing Done Right
What sales and marketing teams don't want a high close rate and a better way to forecast future sales? Better qualifying leads is the first step. Higher qualified leads tend to result in a higher close ratio. A better lead qualification process and criteria allows for more accurate reporting when it comes to forecasting and predicting future sales.
Effective lead nurturing can be done via many different channels with the most common including; phone, email, digital advertising, social, etc. As sales funnels lengthen, buyers become more independent and distracted. As a result, the importance of a strategic, effective, and personalized lead nurturing focus continues to grow. Not effectively nurturing a buyer can result in lost sales and market share to competitors as they most likely are nurturing and staying in front of leads.
Spending the time to develop and map out the right workflow for ongoing lead nurturing that combines messaging, channels (phone, email, digital advertising, social, etc), and the number of touches from marketing and sales development teams is the first step.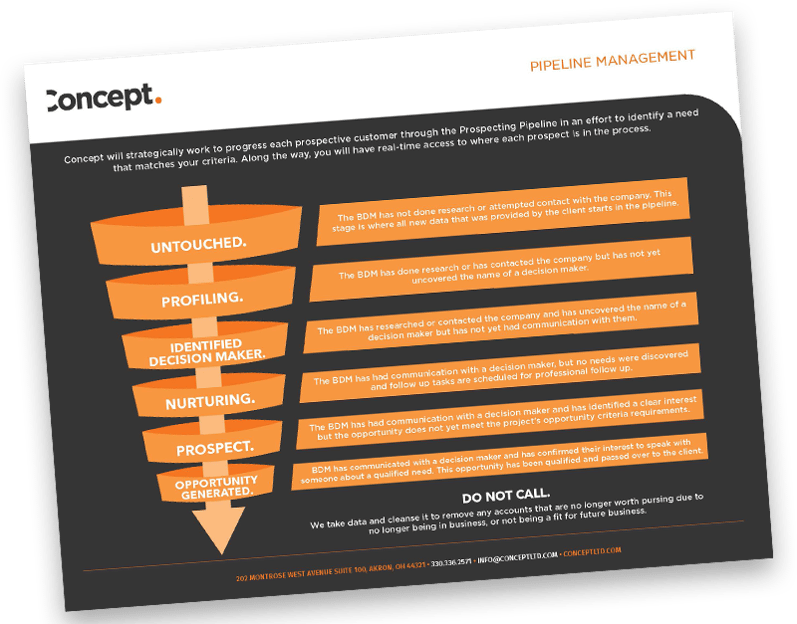 Pipeline Management
Concept strategically progresses each customer through your sales pipeline in an effort to identify a need that matches your criteria.
Ready for Better Lead Management?