Marketing Automation drive meaningful engagement to target audiences and contribute to your bottom line
Email Drip Campaigns
Nurture leads through automated email campaigns that take prospects through a specific journey
Lead Scoring
Move prospects through your sales funnel by assigning points to various interactions they take
Personalized Content
Create various campaigns to move different customer personas through your sales funnel
Pipeline Marketing
Send timely, customized communication through robust and targeted list segmentation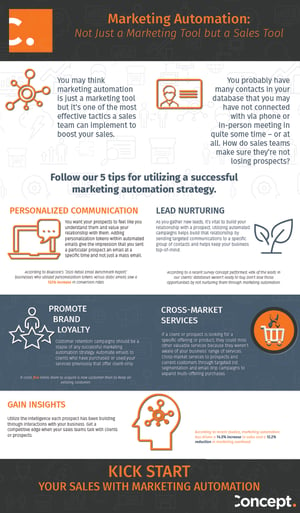 Do you want to connect your marketing efforts to campaigns in Salesforce so you can have better visibility into your marketing ROI?
Concept is a marketing automation company offering integration between top platforms and Salesforce. Not only will we integrate these systems, but we also provide marketing automation services to round out your digital marketing strategy.

Working in Salesforce, HubSpot, and Pardot both internally and for clients, Concept is familiar with CRM integration for marketing automation platforms. Whether you need Pardot Salesforce integration or Salesforce HubSpot integration, our team has the experience to connect your CRM tools effectively.
If you're in need of better visibility into the performance of your marketing campaigns or just want easier connectivity between your team's tools, fill out the form below to connect with Concept's CRM team about our integration services.
Our team of certified professionals helps ensure that you're getting the most out of your marketing automation solution. As your partner, whether your business is looking to improve a current marketing automation program or plans to integrate Pardot marketing automation technology, our team is here to help.
Learn Why Sequences Are Essential in Marketing Automation
Consulting & Strategy
Software is only as good as the way your organization uses it, and marketing automation software is no different. If you've invested in marketing automation, you want a positive return on that investment.
With years of experience helping companies implement marketing automation software, let our team of certified professionals work alongside yours to develop a strategy to maximize the solution. Our consulting and strategy services include the evaluation of items such as:
Discovery & Process Analysis
Persona Development
Content Marketing Strategy
Marketing and Sales Funnel Definition
Lead Nurturing Plan
Sales and Marketing Workflows
Lead Scoring and Measurement Strategy
Helping to Define & Measure ROI from Marketing Efforts
Implementation
Whether Pardot or HubSpot is your first marketing automation platform or you're migrating from an existing one like Marketo, Hubspot or Eloqua, Concept can help. Every marketing automation migration is unique because no company or system is the same. Getting a fresh start doesn't mean you have to leave your history in the past, you just need an experienced team to guide you through the process.
To get the most value from Pardot or HubSpot, Concept can configure your system to align with your business objectives with implementation services including:
Assigning User Roles
Technical Setup
Salesforce Integration
Data Migration
Analytics Integration
Folders, Tags, Campaign Creation
Form & Form Handlers
Landing Page & Email Template Creation
List Building & Segmenting
Dynamic Content
Automation Rules
Drip Campaigns
Lead Assignment, Alerts, & Notifications
Integration into Website
Training
Training & Onboarding Services
Marketing Automation Training
Our personalized training and onboarding services are customized to each client's unique business needs and marketing goals for end-users, managers, and administrators.
Training is performed within your instance of Pardot or HubSpot, so your team can gain firsthand experience on how your organization's marketing automation technology works.
Key topics for training include:
Forms and Form Handlers
Email Templates and List Emails
Segmentation and Lists
Automation Rules
Landing Pages
Gated Content and Pardot Scoring Categories
Engagement Studio
Grading and Scoring
Administration & Support
When you need support, what you need is a dedicated partner that understands your business and can help get the most out of your marketing software. Our dedicated administration team of certified Pardot and HubSpot professionals become a virtual extension of your team to run your marketing automation software.
Do we provide demos for Pardot or HubSpot?
Do we provide demos for Pardot or HubSpot?
Yes, we do. Depending on the solution you are looking for, we have demos prepared to show customers different types of solutions within Pardot and HubSpot.
How do we support Pardot and HubSpot as marketing automation tools?
How do we support Pardot and HubSpot as marketing automation tools?
Salesforce's marketing automation tool primarily for B2B. We have an in-house Pardot Consultant, Shelby Smith. We do not generally create content and manage campaigns for customers. Customers can provide us with content and we can assist our customers with putting the material in the proper format within Pardot. We primarily handle the technical setup of the solution and provide consolation and training services to our customers.
Our Digital Marketing Agency handles most of our clients' HubSpot Marketing Automation needs.
Can we negotiate license rates for our clients with Pardot or HubSpot?
Can we negotiate license rates for our clients with Pardot or HubSpot?
We can assist our clients to negotiate license rates and assist with the annual increase on a case-by-case basis.
It is important to note that we cannot promise Salesforce will not increase their license costs.
All Salesforce contracts include a clause that states; "The per-unit pricing during any renewal term will increase by up to 7% above the applicable pricing in the prior term, unless We provide You notice of different pricing at least 60 days prior to the applicable renewal term."
Improve Your Marketing Engagement with Software