Since most of the US is "social distancing," how does a sales development agency handle their sales development representatives (SDRs) working remotely? Concept uses various technology that allows our SDRs to research, call, track, chat (via webchat), and set appointments for our clients. Director of CRM and Technology, Joe Stephen, recently oversaw moving all Concept employees to remote working within a couple of weeks. If you want to learn more about how Concept moved to a remote workforce in a short time frame, check out this podcast featuring Joe.
You can also learn more about sales development remote workforce.
Most of our lead management is handled on the phone. Did you know that business phone systems can integrate with computer software like Salesforce? Computer Telephony Integration (CTI) describes the practice of integrating your business phone system with your computer systems. It is particularly beneficial for inside sales teams and customer service / sales call centers.
CTI allows data to be collected by the phone system and imported into a CRM or database that queries that information. It can then be displayed on a screen for agents or salespeople to access. It all started with on premise software on a computer or PBX system (private branch exchange).
With the boom of Software as a Service (SAAS), organizations manage their CRMs in the "cloud." Salesforce positioned its CRM as "no more software" platform, and other companies started to follow suit offering telephony integrated solutions through the cloud. And in 2012, Salesforce introduced Open CTI which is a cloud-based CTI solution that leverages existing Salesforce API and removed the need for a software-based adapter. Open CTI enables third-party developers to build custom softphones that sit within the Salesforce page layouts for "Contacts" and "Leads" primarily.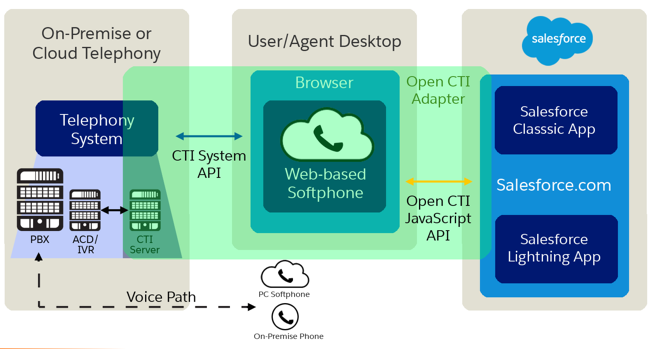 BENEFITS OF USING CTI
There are many reasons why businesses utilize CTI which can include:
Sales Team Benefits
Reach More Prospects
Engaging with more prospects is a top priority for any sales team. The more prospects you reach; the more opportunities you'll create; the more revenue you generate. If you use Salesforce to store the leads generated by your marketing team, your sales reps need a way to quickly and efficiently reach those prospects over the phone. Computer telephony integration removes the need for manual dialing, which can be slow and cumbersome. Telephone numbers associated with any Salesforce object, including leads, contacts and cases turn into clickable links, which your team can use to place outbound calls.
Catch our blog about a Day-in-the-Life of a Remote SDR to see how Concept's sales development reps are reaching more prospects while remote working.
Improve Lead Conversion
The more your reps know about a lead, they can tailor the conversation more to the prospect. That helps them convert more conversations into sales opportunities. By integrating your telephone system with Salesforce, your reps can preview all the information you have about a prospect before placing a call. Information like company, job title, geographic location, which products they've purchased in the past and even their LinkedIn profile can be quickly reviewed. Inbound calls to your sales department can show the caller ID, the number dialed, and any information collect through your IVR can be used to pull up valuable information about the caller. That information can be displayed to the sales rep through a "screen pop" within Salesforce.
Improved Sales Team Performance
Sales managers can optimize team performance through Salesforce dashboards that track key performance indicators (KPIs) like the number of calls made, average call duration, meetings booked, and opportunities created. This can help you measure individual and team performance and determine which reps might need coaching. But a truly effective inside sales team is one that is engaged and highly motivated. Call center software that is integrated with Salesforce not only helps you record and track sales activity, it can also help you "gamify" your sales process. Gamification can help you understand the behaviors of your best performing sales reps and offer incentives to other team members that will help them to improve performance.
Listen to Lauren Zak, Director of Account Development, discuss how technology and CRM helps engage sales teams.
Service Team Benefits
Monitor, Measure and Maximize Call Center Performance
With call center software that uses Salesforce CTI, you can view reports and dashboards from within Salesforce that combine all your service metrics. You can see all the standard call center metrics like average handle time, time in queue, dropped calls and talk time. By combining the data you have about your calls with the information you have in Salesforce, you can also dig deeper to see things like how many calls it took to resolve an open case. And by reviewing detailed agent and team reporting, you will be able to improve training and coaching.
CTI FEATURES
Here are some key features that can be offered with a CTI platform:
Remember, not all solutions offer these features, it will depend on the solution you opt to go with.
Click-to-Dial
Click-to-dial turns telephone numbers into clickable links that are used to place outbound calls removing the need for slow, error-prone, manual dialing.
Automatic Dialing/Dialer
An automated dialer allows you to create lead lists within Salesforce. Leads can then be automatically dialed for your sales agents.
Screen-pop
Deliver your customer records along with the inbound call to your employee's screen so your agents get advanced warning of who is calling, and why.
Soft Phone
Agents can make and receive phone calls using a headset, computer and internet connection. Using a contact pad that is displayed from within the Salesforce interface, agents can place, transfer, park or conference calls.
Automatic Call Logging and Recording
Automatically log and record every call in Salesforce, ensuring you get a complete view of activity while saving your sales team valuable time.
Local Presence
Enable agents to call into any area and present a local number to the prospect to improve pickup rates.
Voicemail Drop
Inside sales reps can pre-record a voice message. If the agent reaches a prospect's voicemail system, the message can then be left automatically, saving the rep time and enabling them to move onto the next call.
Centralized and Simplified Call Reporting
All of your important telephone data is in your Salesforce CRM. It is centralized and simple to create detailed reports for deep insight.
Customer Relationship Management Tools
It's great to utilize a phone system to make prospecting easier for your sales team. But what good is it if it's not connected to a CRM like Salesforce or HubSpot? Here are some of the benefits of CRM:
Share important information about clients/customers electronically
How many times have you received a printed copy of an email about a prospect or sales lead that you later misplaced? Or have you brainstormed new industries you go after but don't know how many clients you currently serve in that particular area?
Salesforce has a great tool called Salesforce Chatter where you can connect, collaborate, and act within a secured environment. You can follow people or create groups within your company's private internal network. You can also tag people, collaborate on sales opportunities, service cases or projects. Each user can manage what type of notifications they receive from Chatter. Imagine being able to utilize this in your business and streamlining so many emails, phone calls, or popping into someone's office.
Transparency
A CRM gives you a 360-degree view of your customers and leads. You'll be able to see every angle of every relationship – who they are, what stage of deal they're in, and interactions between your sales department and your customers.
Reporting
Does it take several hours to figure out how much customers owe to your accounts payable? Are you able to easily see converted leads as new clients?
A CRM can create important operational reports for your business, so you can see how things are performing at-a-glance. Salesforce is a powerful CRM that can slice and dice your data in various ways. Want to see what sources your new leads came from? Use a CRM to get all this type of information at your fingertips.
Chat Integration
HubSpot has a webchat function that is easily integrated into your website. Your customer service reps or an outsourced sales development agency, like Concept, can manage leads that want to chat with a live sales rep while on your website.
Contact information
Use your CRM to manage contact information for all your prospects and customers. See what pages on your website they visited and use that to help build stronger, more meaningful conversations.
Log everything
CRMs allow you to track conversations, whether through email, chat, or phone, you can see when the last contact was made. And you can see how the conversation went. Need to confirm a quote if a salesperson is out for the day? No problem! Use your CRM to find the original quote and close that deal.
Concept understands the importance of keeping our employees safe and healthy maintaining and the importance of our clients' sales pipeline. We are ready to tackle this new business challenge with a clear-headed strategy. Let's chat if you want to keep your sales pipeline full.